Type(s) of project: Scientific study – Educational purpose
Type(s) of wetland: Mangrove
Territory(ies): French Guiana
French Guiana's coastline is home to 70% of French mangroves. As they are confronted with erosion cycles and the aggradation of coastal mud banks, French Guiana's mangroves are extremely dynamic forests. The BIOMANGO project took an interest in this unique ecosystem, by studying the link between the mangrove's benthic biodiversity, ecological functioning and resistance.
The BIOMANGO project is both international and multi-disciplinary. It is coordinated by Emma Michaud, a specialist in bioturbation, biogeochemical fluxes and ecological functioning at the CNRS (French National Scientific Research Center). This project unites the work of 11 laboratories, universities and research institutes, and no fewer than 35 people!
The project is divided into two major focus points: one is scientific, the other educational.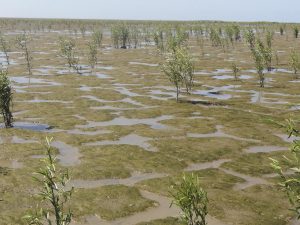 Three scientific axes were studied in-field and in laboratories:
How do the structure and composition of the benthic biodiversity (microalgae: diatoms, etc.; meio- and macro-benthos: nematodes, annelids, crustacean anthropods, bivalves, etc.) vary according to the mangrove's stage of development?
How do biogeochemical fluxes (exchanges and transformation of materials and gas between micro-organisms, water, soil and the atmosphere) vary according to the mangrove's stage of development?
How does the activity of micro- and macro-organisms – living on and in the ground – influence the mangrove's growth?
Research is conducted along a mud barrier, located to the West of the Sinnamary River mouth. "Just near the site, a building rented for specific tasks (the "carbet") is used as a base for accommodation (hammocks and mosquito nets), meals and as an in-field laboratory for initial work: sieving, sorting, sampling and sample preservation, equipment maintenance, data input, etc."
Biomango is also an educational project:
The purpose of this project is also to raise awareness among a younger audience (schools) about mangroves. By teaching them and helping them better understand the use of the mangrove, the BIOMANGO team wishes to encourage youths to protect it. This educational project – carried out in mainland France and French Guiana- has two versions, each adapted to the pupils' geographical location.
In France
Dans le cadre du programme pédagogique « A l'école des Océans » proposé par le centre de culture scientifique de Brest consacré aux océans d'Océanopolis, un atelier scolaire dédié aux lycéens et nommé « La mangrove guyanaise : entre océan et forêt tropicale » a débuté au mois de novembre 2014. Cet atelier d'une durée de 3h30 a été créé en partenariat avec des chercheurs de l'IUEM et du CNRS.
Its objectives are as follows:
discovering BIOMANGO's scientific program,
identifying and locating areas at various scales,
studying a marine ecosystem: observing the biodiversity,
extracting, exploiting and collating information,
manipulating, experimenting: implementing a scientific approach,
becoming aware of Man's impact on the environment.
In French Guiana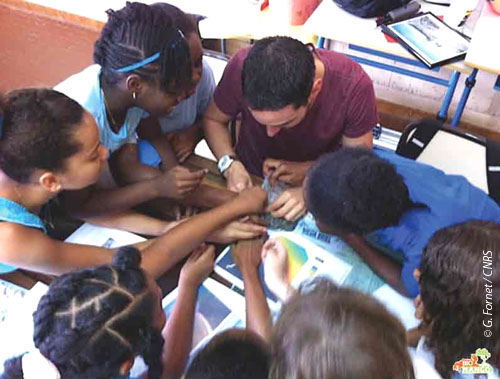 The Biomango team chose to develop a mediation project, aimed at a wider audience. The idea was to raise awareness among the public about the environment, including mangroves. Biomango also started a partnership with the Educational Board of French Guiana, to train teachers (primary, middle school and high school) how to teach pupils about local environmental issues.