Context & objectives
The Mang project, part of the European Commission's BEST preparatory action, is funded by the French Development Aid Agency.
Implemented by the public interest group Aten (Atelier technique des espaces naturels, Technical Workshop for Natural Areas) and by the Conservatoire du littoral (French coastal protection agency), the project aims to encourage collective momentum for the preservation of European overseas coastal wetlands.

8 pilot sites in Saint-Pierre and Miquelon, Saint-Martin, Saint-Barthélemy, Guadeloupe, Martinique, French Guiana, Mayotte and Réunion, and more broadly any neighbouring Outermost Region (OR) or Overseas Country and Territory (OCT) wishing to join the network.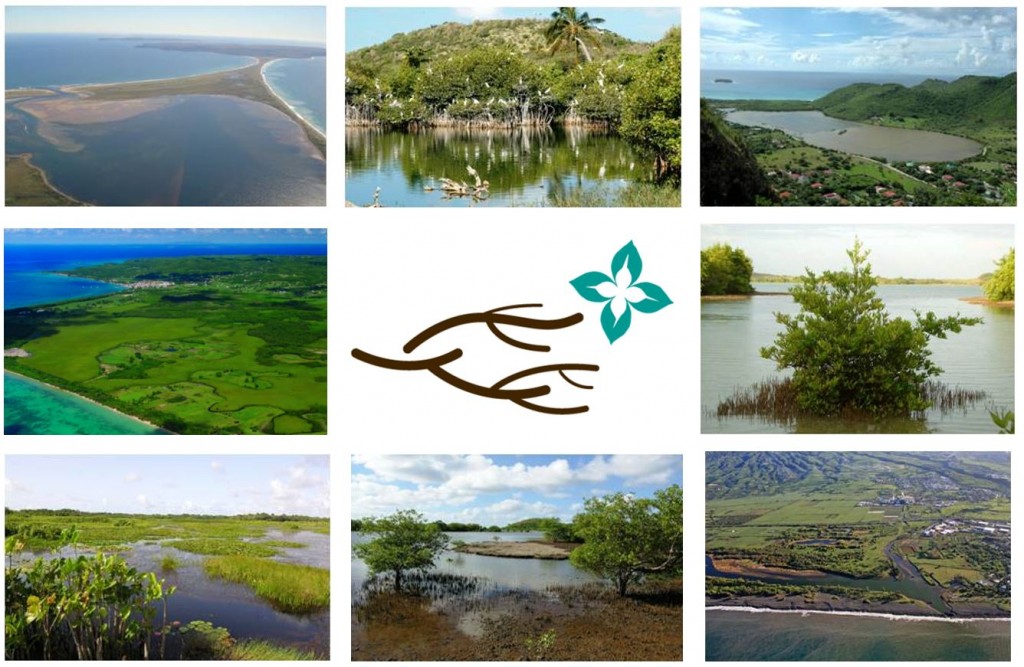 Several observations:
the European overseas wetlands are not well known and are minimally managed,
the players involved in managing these wetlands need to share feedback and strengthen their skills,
management methods and strategies appropriate to the local contexts need to be developed,
operational solutions must be found for the need to improve knowledge and adapt tools.
However…
the biodiversity preservation challenges in these environments cannot be ignored,
the benefits these ecosystems provide for their territories and for the local populations are immense,
several European overseas coastal wetlands have been recognised internationally (Ramsar Convention, MAB, etc.).
The programme's objectives are to simplify the management of wetlands, for better efficiency. This will be achieved by:
improving understanding of overseas wetlands thanks to a simple and reproducible ecological diagnosis methodology,
defining, with local players, the management objectives and putting follow-up in place by drawing up simple and reproducible standardised protocols,
promoting governance of participatory wetland management,
reinforcing the sharing of feedback among the managers of the various territories and making the results accessible to the local populations,
encouraging collective movement for the preservation of European overseas coastal wetlands.
The project is divided into three phases:
1st phase: establishing management recommendations for the pilot sites:


Analyse existing documentation, to determine the initial status of the sites.
Carry out diagnostic testing on the biological compartments, water and sediment, to add to the available data. These diagnostic tests will allow for a better understanding of how the sites operate and help determine their ecological status.
Based on these elements, and in cooperation with the players in the territories involved throughout the first phase, a simplified management plan will be drawn up for each site.
2nd phase: drawing up simple and reproducible methodologies:

Drawing up a diagnostic testing methodology applicable to all sites and easy for managers to implement, combined with a decision-making tool for completing the diagnostic testing.
Proposing simple and standardised follow-up protocols, which meet local and regional needs, creating a toolbox.
3rd phase: training the Overseas managers:

On the coastal wetlands (operation, ecosystem services, threats)
On the diagnostic toolbox, governance and follow-up, established in phase 2.