In the French part of Saint Martin, the Conservatoire du littoral acquired 14 ponds in 2007, which are managed by the Saint Martin Nature Reserve. Since 2006, they have also been protected by a biotope protection decree for avifauna, recognized as wetlands of international importance by the Ramsar Convention since 2011 and approved by the SPAW protocol since 2012 (Caribbean level of recognition).
These ponds are particularly remarkable given the numerous birds that live around them (number of species and abundance). For nature-lovers (20 to 40% of tourists in the world according to the CBI), observing these sites has become a reason of its own to visit Saint Martin.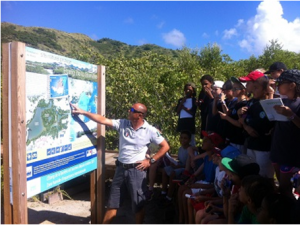 Indeed, birdwatching – a leisure activity during which birds are observed – is far from being a secluded activity reserved to enthusiasts, and can attract a fair amount of visitors. This activity is particularly popular in the United States: many American tourists come to visit Saint Martin. As such, 20% of Americans birdwatch, and in 2006 an estimated 36 billion dollars was paid into the American economy as a result of birdwatching (source: US Fish and Wildlife Service).
In Saint Martin, the fundamentals required for building up birdwatching-based tourism are present (the birds of course!), with over 85 recorded species. Visitors can get quite close as there is practically no hunting on the island. The tools used to discover these birds still need to be developed, as does suitable promotional material – just like in the Dominican Republic, Jamaica, Grenada, Cuba or even mainland France (Marquenterre ornithological reserve in the Baie de Somme region for instance).
In this regard and for the last few years, the Conservatoire du littoral has been developing the island's wetland areas: currently, three of Saint Martin's ponds have stilted pathways, observatories or docks for observing the avifauna.

Inaugurated in April 2013, the Étang de la Barrière pond visitors' pathway has now been recognized by the Caribbean Birding Trail, an initiative that inventories all the best bird-watching sites throughout the Caribbean. For birdwatching- and ornithology-lovers, this recognition means that the small island of Saint Martin is now on a par with destinations such as the Dominican Republic, Puerto Rico or even Cuba, an island much acclaimed for this kind of activity.
In September 2013, the site hosted its very first Migratory Bird Festival event, within the framework of the International Migratory Bird Day – an event organized by the "Les Fruits de Mer" association – during which the path was visited by over 200 people.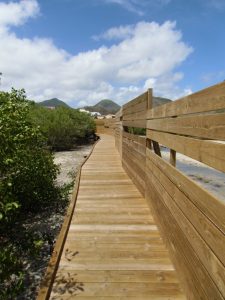 In late 2014, two new wetlands were landscaped to welcome birdwatchers: the Étang de la Baie Lucas (Lucas Bay Pond) and the Étang du Cimetière de Grand Case (Grand Case Cemetery Pond); these sites are so beautiful that two bird observation platforms were installed.
In addition to the diverse range of activities offered to those visiting Saint Martin, the development of safe birdwatching observation sites in Saint Martin's wetlands should help the island become a praised birdwatching destination in the Caribbean. Ideally, it should lead to the public better understanding these ecosystems, and thus ensure higher respect for these often compromised environments.
For further information: http://www.conservatoire-du-littoral.fr/